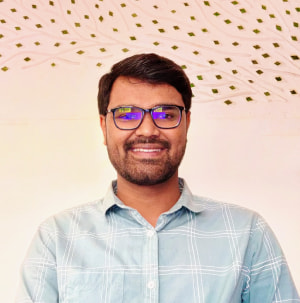 Hey there,
I am Pratik from Jamnagar, Gujarat, India.
I work at Gridle as a front-end engineer. Developing beautiful interfaces with HTML, CSS and JavaScript is my passion and profession for almost past two years. Being able to help people through the interfaces is the great satisfaction for me.
When I am not at work, I like to contribute to open source projects. Occasionally I can be found wandering at Rook Islands, Kyrat or Great Plains. I like to play computer games. Some of my favorite are Age Of Empires 3, FarCry-3 & 4, The Witcher series, Assassin's Creed – Black Flag & Royal Revolt 2.
Skills
Client Side: HTML, CSS, Javascript, SASS, PugJs, AngularJs, ReactJS, Bootstrap, Grunt, Webpack
Server Side: NodeJs, Nginx, Linux (Ubuntu), Amazon EC2, Google Cloud Platform
Database: My SQl, MongoDB
Developer Tools: Git
Work Experience
Gridle - From January 2016 to present
Gridle is a cloud based collaboration tool for teams to communicate effectively.
My role at Gridle is to make interfaces which help the users to achieve the goal of seamless collaboration. I use HTML, CSS and Javascript to craft the interfaces user can interact with.
Freelance - From July 2015 to January 2016
While working as a freelance web developer, I have had the pleasure to help various organizations create their on-line presence by developing their websites and web-based applications to manage their enterprise data.
Education
Diploma in computer engineering 2016 - Gujarat Technological University
Projects
Gridle is a cloud based collaboration tool for teams to communicate effectively. My Role at Gridle is to develop web-based user interfaces using HTML, CSS, and JavaScript.
A free, modular and easy to customize dashboard theme built using Bootstrap, SASS and Pug JS.